Automated network configuration and compliance management
Key Features
Network automation
Network compliance
Configuration backup
Vulnerability assessment
Network Insights for Cisco ASA and Cisco Nexus
Integration with Network Performance Monitor
Starts at $2,895
Device configuration management forms a major part of day-to-day network administration tasks. With the ever increasing number of devices, business-critical applications, and data, network administrators frequently find themselves working on new device deployments, which often require changing device configurations to suit new requirements while ensuring network availability and quick resolution of issues. The challenge faced is that there are numerous devices of different types spread over various locations and managing administrative tasks for these devices becomes cumbersome. SolarWinds Network Configuration Manager (NCM) not only takes out the effort of managing numerous device configurations in a heterogeneous network, but also minimises network downtime.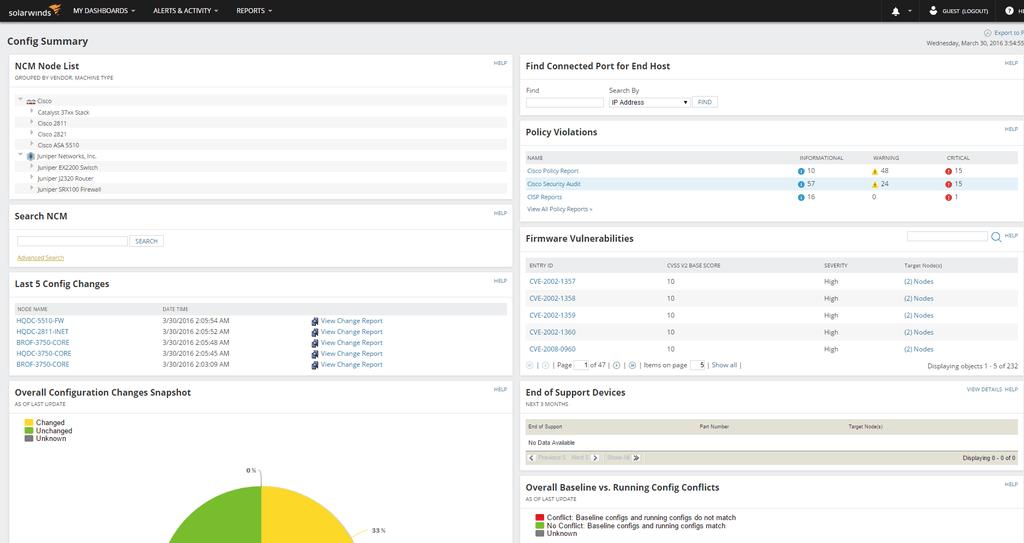 HOW SOLARWINDS NETWORK CONFIGURATION MANAGER HELPS MAINTAIN UP-TO-DATE INVENTORY OF NETWORK DEVICES
SAVES TIME AND INCREASES PRODUCTIVITY
SolarWinds Network Configuration Manager enables users to maintain an accurate and up-to-date inventory of all network devices. By automatically importing/discovering devices, and obtaining detailed inventory information, NCM saves users from spending several hours compiling and updating device information.
INFORMS WHICH NETWORK DEVICES ARE OPERATING AND THEIR LOCATIONS
Tracking and documenting multiple devices and device types across many locations is painstaking and time-consuming. Maintaining data such as serial numbers, IP addresses, vendors, end-of-life dates, etc., is necessary for keeping configuration management database accurate. However, manually performing this task with multiple administrators is difficult. SolarWinds NCM imports existing devices, no matter which device type, and automatically updates device information whenever it changes.
PROVIDES RELIABLE DEVICE DATA TO MAKE INFORMED DECISIONS
Administrators are often unaware that a device has an expired maintenance contract or has reached end-of-life status until the device fails. In these cases, replacing the device is more expensive and commonly results in costly network downtime. SolarWinds Network Configuration Manager tracks device end-of-life information, and helps IT staff plan for contract renewals or device replacements.
HOW SOLARWINDS NETWORK CONFIGURATION MANAGER HELPS ENSURE A HIGH LEVEL OF NETWORK RELIABILITY AND UPTIME
AUTOMATED & SCHEDULED BACKUPS
SolarWinds Network Configuration Manager helps build and manage a completely automated and reliable configuration archive for routers and switches, such as Cisco®, Juniper®, Adtran®, Brocade®, Dell®, Extreme Networks®, HP®, Palo Alto®, Synoptics, F5 Networks®, and more.
STORES CONFIGURATION DATA CENTRALLY
Configuration management not only involves maintaining an archive, it also means being able to quickly search for and locate a configuration file. Once network backups are completed, SolarWinds Network Configuration Manager automatically organises them by device and version. This means users can easily find any configuration archive.
QUICKLY RECOVERS FROM DEVICE OR CONFIGURATION FAILURES
SolarWinds Network Configuration Manager helps save time, reduce errors, and reduce the risk of costly network downtime with automated device configuration backup. This enables to:
Protect critical devices with reliable backups of network configurations.
Quickly recover from failed configuration changes by restoring a previous known good configuration.
Reduce downtime while adding a new device to the network, or replacing a failed device by using the configuration from a backup.
ALERTS AND ERROR REPORTS
After defining network backup schedules, it's important to monitor the operation for any failures. This helps take the proper corrective action. In addition, SolarWinds Network Configuration Manager shows which devices have not been successfully archived. This way IT pros can avoid any surprises while searching the archives for a configuration.
HOW SOLARWINDS NETWORK CONFIGURATION MANAGER IMPROVES NETWORK CHANGE AUTOMATION
AUTOMATES MANUAL CONFIGURATION CHANGES
SolarWinds NCM saves time making wide-scale configuration changes by using powerful Configuration Templates. Configuration Templates are user-definable and reusable, making them ideal for making routine changes.
REDUCES ERRORS AND DRAMATICALLY IMPROVES NETWORK RELIABILITY
Human error is the leading cause of network downtime. By using Network Configuration Manager, organisations can reduce those errors, which cause mis-configured devices and network interruptions. Moreover, with SolarWinds NCM IT pros can restrict access to devices and give the ability to make changes using roles and permissions. Finally, changes can be reviewed and approved by network admins prior to deployment.