Manage and audit access rights across your IT infrastructure
Understand and act on high-risk access
Minimize the impact of insider threats
Improve compliance by detecting changes
Identify who has access to what fast
Fast, accurate account provisioning
Delegate access rights management
​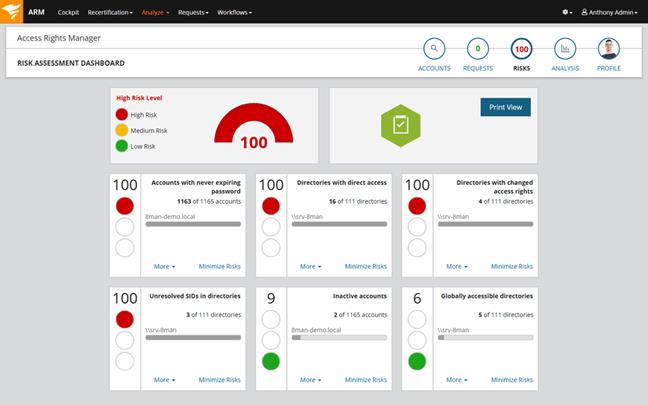 Key Features
Features Overview:
Learn how SolarWinds access management system can help improve IT and data security.

Improve security posture and mitigate insider threats
Automate access rights management, analysis, and enforcement through identification of insecure accounts while providing audit trails.
Demonstrate compliance
Quickly generate and deliver comprehensive user access reports for regulatory compliance and audits.
Easily manage user permissions
Simple user authentication and permissions management with automated and templatized provisioning and deprovisioning.
Enhance productivity
Help reduce IT workload through self-service portal and delegation of access rights management to data owners.
Unexpected simplicity
Powerful and intuitive access rights monitoring and access management system for companies of all sizes for threat protection from the inside out. We call it Security Simplifie


Monitoring of Active Directory
Monitor and audit access rights changes to Active Directory and Group Policy.
Monitor, analyze, and audit Active Directory and Group Policy with ARM access rights and access management system to see what changes have been made, by whom, and when those changes occurred.

Auditing for Windows File Share
Alert on unauthorized access or changes to Windows file servers.
ARM access management software can help prevent data leaks and unauthorized changes to sensitive files and data through visualization of permissions on file servers.

Monitoring of Microsoft Exchange

Analyze and administer Exchange access rights.

Simplify Exchange management and auditing to help prevent data breaches. Track changes to mailboxes, mailbox folders, calendars, and public folders with ARM access management system.

SharePoint access monitoring and management
Analyze and administer SharePoint access rights.

ARM access management system displays SharePoint permissions in a tree structure allowing you to quickly see who is authorized to access a given SharePoint resource.

User provisioning and management
Create, modify, activate, deactivate, and delete user access to services and files.
ARM access rights management software can set up and manage new user accounts generally in seconds with standardized role-specific templates that provide access to file servers and Exchange.
User permissions analysis
See group memberships from Active Directory and access rights to file servers.

Help protect from internal security threats by analyzing user access to services and file servers with visibility into privileged accounts and group memberships from Active Directory and file servers.

Custom report generation
Help satisfy the auditor and comply with regulatory requirements.

Create and generate management and auditor-ready compliance reports showing user access rights in just a few clicks. Log activities in Active Directory and file servers by user with ARM access rights management software.

Self-service Permissions Portal
Request access rights directly from the data owner.

Put access rights of data directly in the hands of the data owner instead of the administrator with a web-based, self-service permissions portal.