Virtual machine monitor designed to optimize performance and fix issues in minutes
Key Features
Predictive Recommendations
VM Sprawl Control
Comprehensive virtualization management
Powerful capacity planning tools
Manage across on-premise, hybrid, and cloud
Visibility across the application stack
Starts at $2,995
SolarWinds Virtualization Manager delivers integrated VMware® and Microsoft® Hyper-V® capacity planning, performance monitoring, VM sprawl control, VDI performance monitoring, configuration management, alert remediation, and chargeback automation – all in one affordable product that's easy to download, deploy, and use.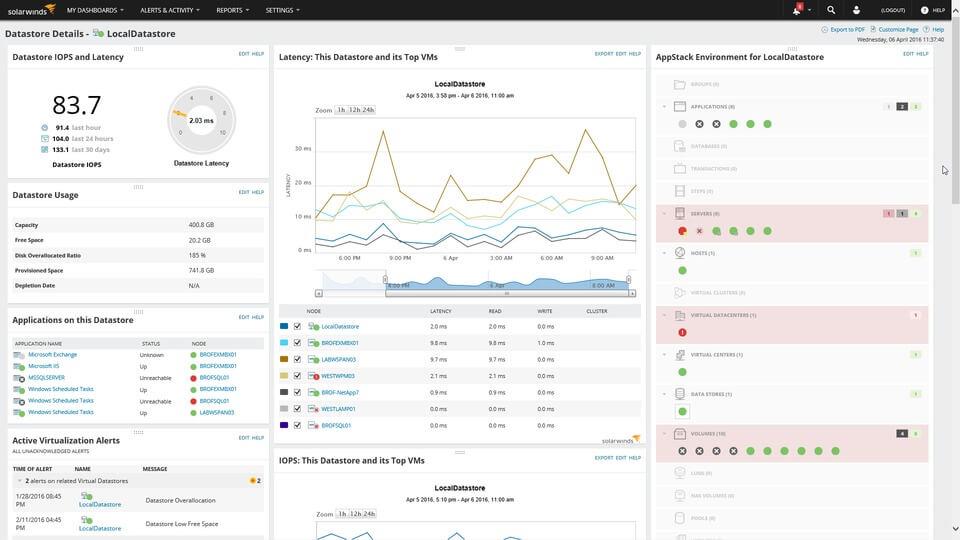 THE FIVE KEY CHALLENGES IN VIRTUAL ENVIRONMENTS THAT SOLARWINDS VIRTUALIZATION MANAGER EFFECTIVELY MANAGES:
PERFORMANCE MANAGEMENT
Having good performance is critical in a virtual environment where the same resources are being shared by many virtual machines. Nothing can kill a virtual environment faster than not having adequate performance for all the virtual machines running in it. When all virtual machines are competing for the limited host resources, it is crucial to ensure that limited resources are available but more importantly their usage has to be prioritised.
SolarWinds Virtualization Manager identifies problem areas that can affect performance and determines what resource areas are experiencing contentions. Through the use of dashboards, automated alerts and reports targeting the key areas that can impact performance, Virtualization Manager can help ensure that IT organisation's virtual environment performs well and stays healthy.
CAPACITY PLANNING
Maintaining sufficient capacity and planning for future growth is a non-stop job in a virtual environment. Knowing what resources to add when they are needed ensures that there is always enough capacity in the virtual machine and company is not wasting money on resources that are not needed. As resources are shared, capacity planning can be a tricky job because when adding capacity, it is very important to make sure that the right type and amount of resources gets added.
Surprises are not good in virtual environments and Virtualization Manager can help make sure that organisation never experiences any. Virtualization Manager helps users better understand when resources will run out and automatically notifies if there is a pending resource shortage. It can also help with host failover capacity planning to ensure that there is always enough spare capacity to handle host failures. Finally, users are enabled to do advanced "whatif" analysis in order to create models of scenarios that will impact IT organisation's resource availability.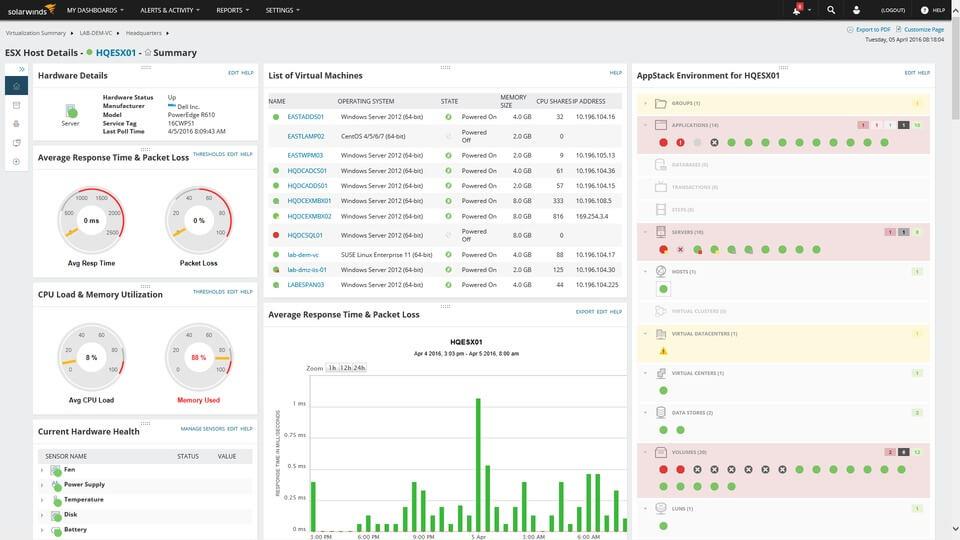 VM SPRAWL IDENTIFICATION
Monitoring VM lifecycles and growth patterns is critical to be able to identify VM Sprawl. However, it is quite difficult to spot VM Sprawl on daily basis when growth in the virtual environment is not easily noticeable.
Virtualization Manager monitors growth trends so IT organisations can have a better understanding where its virtual environment has been and where it is going. Furthermore, it can easily identify un-used and zombie VMs and orphaned files and VMs that have more resources than they require. Finally, Virtualization Manager enables to control that growth, so companies can prevent their environment from getting overwhelmed by virtual machines.
CHARGEBACK AND SHOWBACK
Chargeback and showback help control virtual environment's growth as well as track resource consumption. Host resources have a cost associated with them and it can be extremely difficult to determine which virtual machine is using particular resources.
SolarWinds Virtualization Manager provides IT organisations with a business perspective to the virtual environment so users can understand the business context of the resource usage. Virtualization Manager also produces resource usage reports by business consumer so IT organisations can see what is driving their IT costs. Additionally, chargeback can help fight VM sprawl and ensure that all resource usage is truly relevant.
STORAGE I/O BOTTLENECK IDENTIFICATION
Having a storage I/O bottleneck is one of the biggest threats to performance in a virtual environment and also one of the more challenging issues to identify and resolve. Such bottlenecks are the result of low designed clusters and managed resources.
SolarWinds Virtualization Manager identifies potential bottlenecks before they occur. By giving a detailed visibility into IT organisation's storage subsystem, SolarWinds Virtualization Manager allows to identify bottlenecks and deal with them. Using detailed storage metrics such as latency, throughput and IOPs, IT organisation can see how the storage is performing and exactly what areas need to be addressed. It lso proactively alerts when problems occur across all the storage tiers.

DOWNLOAD FREE TRIAL